Living and working in Vietnam, you certainly have many opportunities to interact and communicate with native speakers. Besides, many Vietnamese students are also willing to exchange languages ​​with you to help each other learn so you do not have to joint in Vietnamese classes.
Language exchange helps you to learn Vietnamese without paying the cost and make friends with many people. However, many leaders in foreign companies or English teachers who come to Vietnam to work, choose a Vietnamese course at Jellyfish with professional teachers. Why?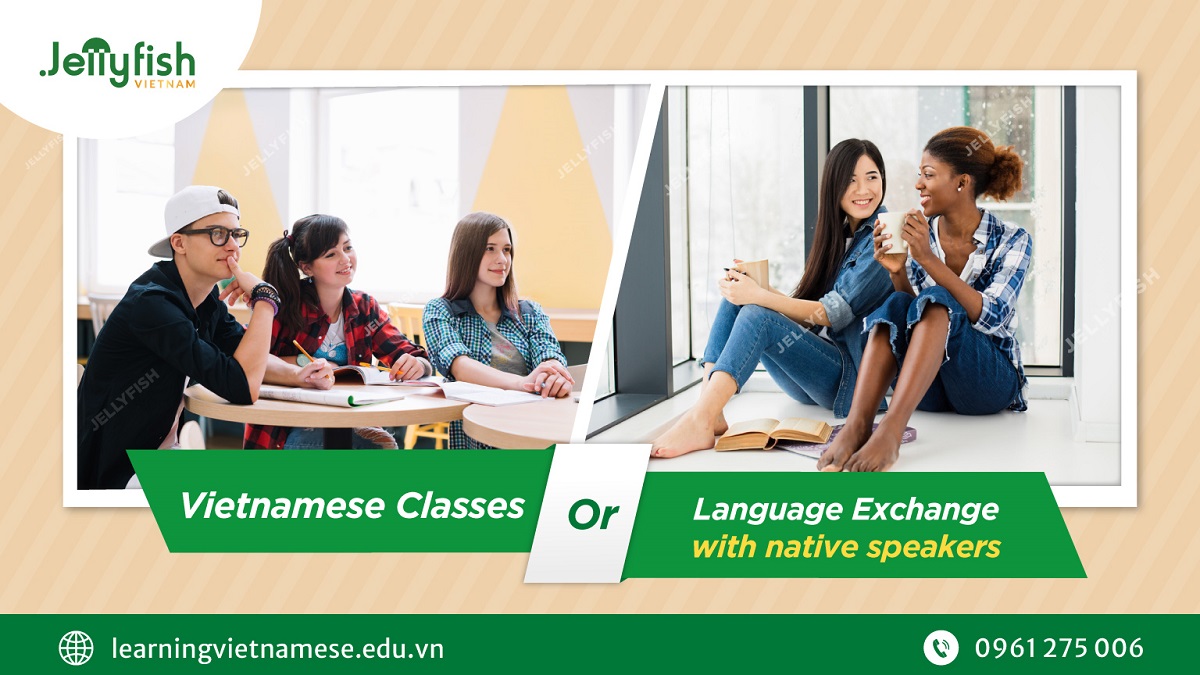 1. Not all Vietnamese are good at Vietnamese
It doesn't sound plausible, but it's true. Vietnamese is extremely rich and varied. Every Vietnamese from different regions will pronounce Vietnamese differently. The Hanoi accent is said to be the standard voice of the Vietnamese. In neighboring provinces and cities, the Vietnamese voice will only be different in some places, but if it is different from another region, it will be difficult for you to learn standard Vietnamese.
Besides, not all Vietnamese have a firm grasp of the grammar, sentence structure, sentence components, … to be able to explain to you clearly about Vietnamese. All Vietnamese can speak Vietnamese, which is obvious, but not everyone knows how to teach Vietnamese.
See more: 3 main accents in Vietnamese
2. Clear learning pathway is extremely necessary
If you only learn by exchanging language, it will be challenging for you to understand how to form sentences, words, … On the contrary, a professional teacher will help you understand the root of the problem. And from a solid foundation, you can build up a rich knowledge of Vietnamese. That is the right way to learn.
3. Studying with professional and qualified teachers will help you with perfect skills
Normally, when you live for a long time in a certain country, it is not difficult to speak the language of that country. However, to be able to use Vietnamese fluently all four skills: listening, speaking, reading, and writing, it will be a training process and you definitely need a professional teacher to guide and accompany.
4. What will you get if you attend a Vietnamese course at Jellyfish?
At Jellyfish, all Vietnamese teachers are Vietnamese. You absolutely can choose to learn a teacher with a North or a South accent depending on your preference. Besides, our teachers are very enthusiastic about teaching, knowing many languages ​​so you can choose to study in English, Japanese or Korean.
5. So you still want to exchange languages?
Or do you want a professional teacher to help you study methodically with reasonable tuition fees and a professional and enthusiastic teaching style, Jellyfish is definitely the number one choice for you.
---
For more information about the Vietnamese Language Program for foreigners, please contact us at the following information:
Jellyfish Education Vietnam – Hotline: 0961.275.006