▪️ Are you having a hard time trying to communicate with Vietnamese locals?
▪️Do you want to do simple daily activities like booking movie tickets, ordering food, asking directions…but locals just can't understand English?
▪️ Did you try to study Vietnamese by yourself but it's just too difficult?
Then don't hesitate to join our 𝐕𝐈𝐄𝐓𝐍𝐀𝐌𝐄𝐒𝐄 𝐂𝐎𝐌𝐌𝐔𝐍𝐈𝐂𝐀𝐓𝐈𝐎𝐍 𝐂𝐎𝐔𝐑𝐒𝐄 at Jellyfish Education.
The majority of foreigners, having an intention to learn Vietnamese, tend to want to communicate as soon as possible, focusing on listening – speaking – reading skills rather than writing. Therefore, Jellyfish teachers have designed the course to serve the communication needs in the daily life of foreigners living and working in Vietnam.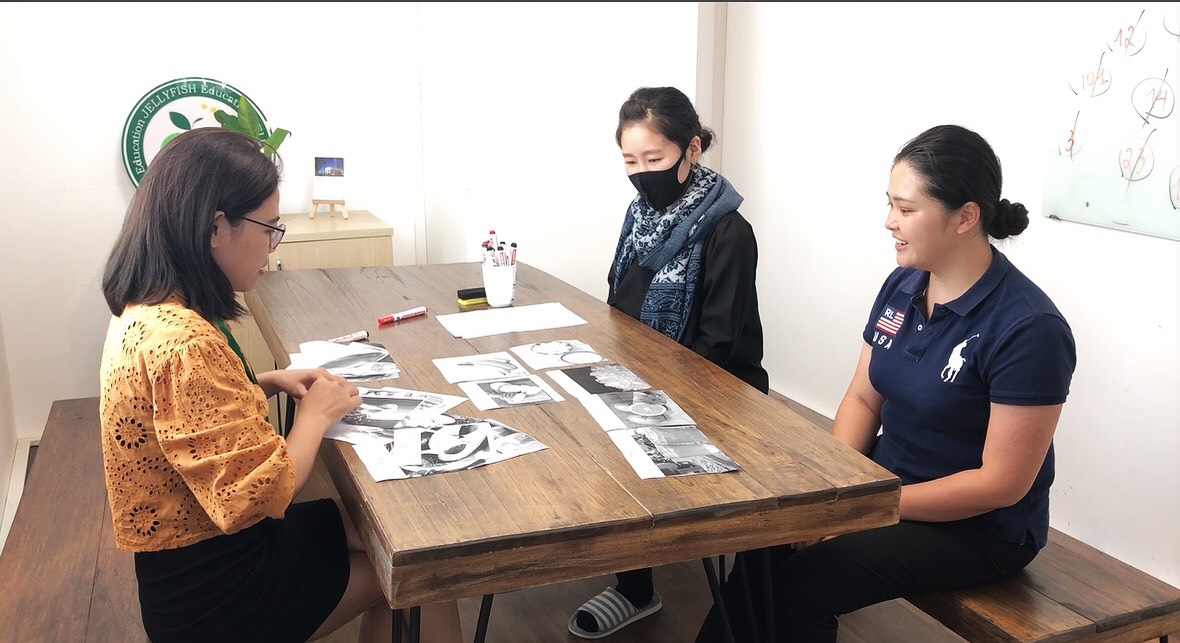 I. WHO SHOULD TAKE THIS COURSE?
– Foreigners who have not learned or just started learning Vietnamese
– Foreigners want to focus on listening and speaking skills to communicate confidently with locals in everyday life.
II. COURSE GOAL
Basic communication course
After completing the course, students will be able to communicate with simple topics such as:
+ Daily communication topics (greeting, shopping, travel, booking …)
+ Vietnamese culture in everyday life
+ Difficulties that foreigners often encounter when they first come to Vietnam and how to solve them
Advanced communication course
After completing the advanced communication course, in addition to being able to communicate basic topics, students will be able to
+ Talk to Vietnamese naturally
+ Pronounce Vietnamese accurately
III. COURSE INFORMATION
Course

Level

Type

Hours

Communication

Basic

Private

Group

30h

60h

90h

Communication

Advance

Private

Group

30h

60h

90h
IV. TUITION FEES (VND)
Private class

Group class (2-6 people)

30h

60h

90h

30h

60h

90h

9.000.000

18.000.000

27.000.000

4.500.000

9.000.000

13.500.000

5% discount for the whole course payment

10% discount for the whole course payment

15% discount for the whole course payment

5% discount for the whole course payment

10% discount for the whole course payment

15% discount for the whole course payment
V. SYLLABUS
– Vietnamese textbooks for foreigners
– Supporting materials compiled by Jellyfish Education
---
Coming to Jellyfish, you will be tested and advised for a suitable course and a FREE TRIAL to ensure that the teaching method and curriculum meet your needs. For further information please contact:
Jellyfish Education Vietnam – Hotline: 0961.275.006