Vietnamese is one of the most difficult languages ​​to learn in the world. With a "huge" grammar system, many meanings, even many Vietnamese are easily confused when speaking and writing, so foreigners learning Vietnamese will definitely not be easy. So, How to learn Vietnamese for Foreigners?
So if you are a foreigner who wants to learn Vietnamese, where and how can you learn Vietnamese?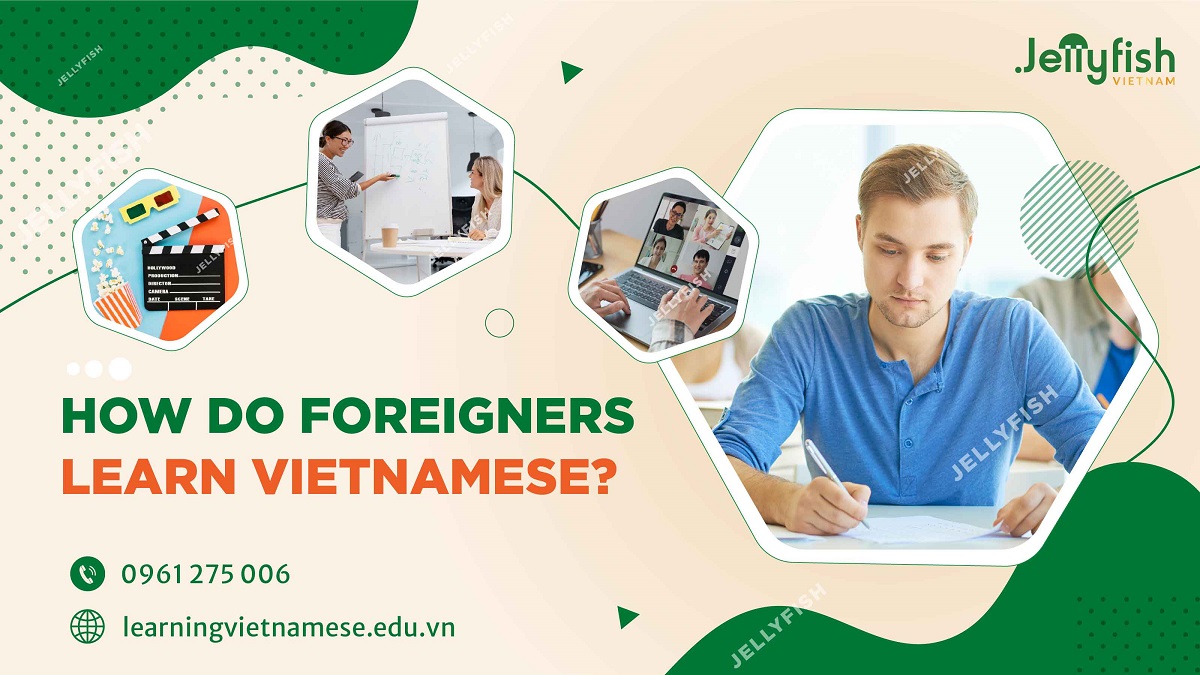 1. Learning on websites, videos teaching Vietnamese on the Internet
Currently, there are many websites that publish lectures from basic to advanced, you can follow and learn pronunciation and tone to get familiar with Vietnamese. Online learning is very popular because it is both time and cost-saving, however, the effectiveness is not proven.
2. Learn from real experience, in everyday life – How to learn Vietnamese
Learning any foreign language also needs an environment to practice. If you want to learn Vietnamese faster then talking to the locals regularly or attending a Vietnamese cultural festival is the most interesting way. This will be very helpful in training your Vietnamese communication skills and learning more about Vietnamese culture. If you have a chance to meet and talk with Vietnamese people everyday, your Vietnamese learning will become much easier!
Do not be afraid to say something wrong, Vietnamese people are very hospitable, friendly and ready to help you improve your language skills. You can also join Foreigners Community Groups in Vietnam to hear about the fastest experiences and tips for learning Vietnamese.
See more: Vietnamese accents
3. Listen to music and watch Vietnamese movies
In addition to learning Vietnamese through books, you can apply methods of listening to music, watching movies … to improve your language skills.
When learning Vietnamese through songs, you do not need to spend too much time because you can listen to music anywhere. You can listen to music while cooking, washing dishes, taking a bath, … And by choosing the music you like, you can listen to songs without getting bored. In each song, many words and sounds are repeated over and over and this will make it easier for you to remember.
Movie lines often originate from real life situations. Therefore, when you listen attentively to the dialogues of the characters, you are training your ears to be familiar with the sounds and words of Vietnamese that are closest to real life.
4. Learn through language exchange – How to learn Vietnamese for beginners
A fairly popular form of learning Vietnamese today is learning Vietnamese by exchanging languages. It means that you will teach Vietnamese your language (English, Japanese, Korean,…) and Vietnamese will teach you Vietnamese. Every learner (the majority) is not a foreign language teacher. Both of you are merely learners, at the same time supporting each other. Learning will become much simpler, more comfortable and natural.
5. Learn Vietnamese in a professional Vietnamese language training center
Learning foreign languages ​​in general and learning Vietnamese in particular, in order to achieve quick results, the learning method is a very important factor. You should look to centers that specialize in teaching Vietnamese to foreigners. There, the teachers who have many years of experience teaching Vietnamese to foreigners will help you to have more effective learning methods. In addition, coming to the classroom, you also have the opportunity to exchange and practice speaking Vietnamese with many Vietnamese and other foreign students.
6. Which prestigious foreign language training center for foreigners?
As one of the leading and highly appreciated institutions for the quality of training, Jellyfish Education had the opportunity to teach Vietnamese and introduce culture to many foreigners living and working in Vietnam.
The courses at the foreign language training center for foreigners are customized to the needs of students from beginner to advanced with flexible time and need for intensive or elementary classes.
With the experiences accumulated over the years, we understand that every individual or every business has their own goal when learning Vietnamese. Therefore, we always carefully study the specifics of our partners' work and business lines to design effective and suitable training programs as well as highly applicable in work, in daily life.
Coures for you:
---
For detailed advice on Vietnamese language courses for foreigners, please contact Jellyfish Vietnam immediately through the following ways:
Jellyfish Education Vietnam – Hotline: 0961.275.006