Vietnam is highly appreciated by the international community with remarkable success in Covid-19 pandemic prevention and control. Moreover, the Vietnamese economy stays resilient during the outbreak thus the economy still reaches high growth compared to many countries in the region and around the world. As a result, Vietnam is emerging as a "bright spot" and one of the prime destinations for investment after the pandemic. At present, Vietnam gains a higher position in the international arena compared to before the outbreak.
The above achievements also make Vietnam have more competitive advantages to catch the flow of investment and production from many large corporations in the world withdrawing from China due to Covid-19.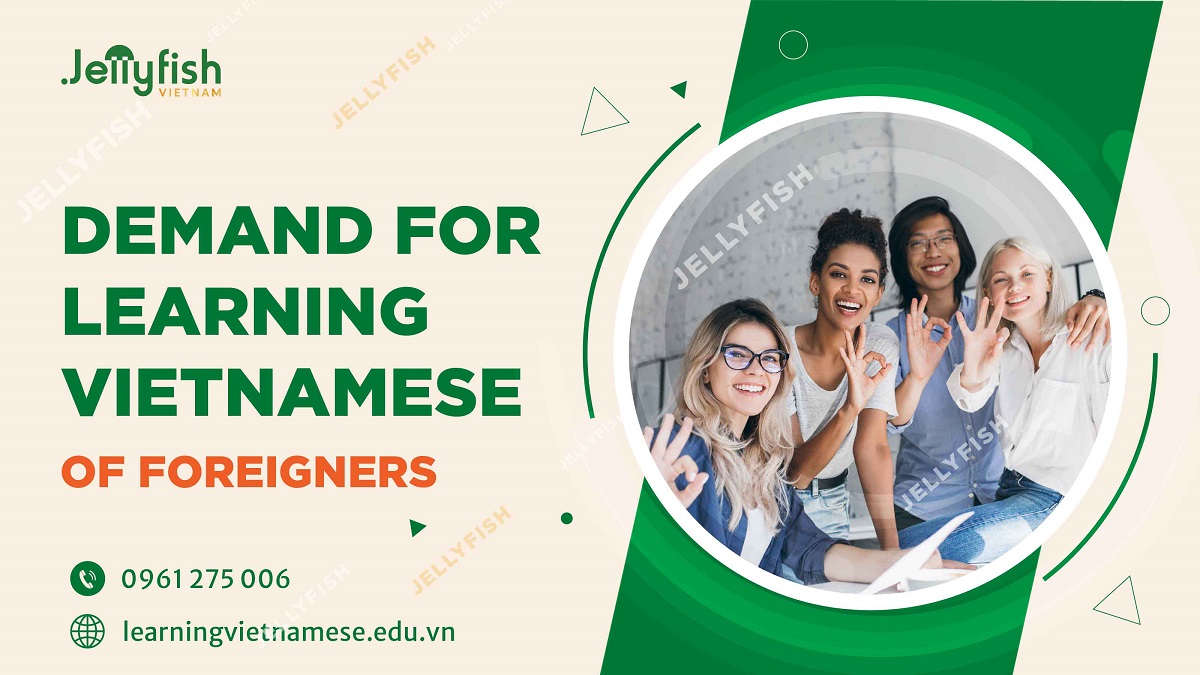 1. Foreign businesses in Vietnam
Currently, there are many enterprises, large corporations of Korea, Japan and some European and American countries investing in China also intend to relocate their production facilities to another country, and many investors are considering Vietnam as a prime destination 
These companies, when investing in Vietnam, have sent their experts to Vietnam to work and manage the business in Vietnam. And to be able to manage well, it is very necessary to read, speak and write Vietnamese competently.
On the other hand, if foreigners living in Vietnam can speak Vietnamese, their daily activities will be easier. In Vietnam, they are paid with a high salary while the cost of living in Vietnam is lower so life is more comfortable. This is the reason why many foreigners want to live and work in Vietnam in the long term. 
2. Vietnamese training courses for foreigners at Jellyfish Education
The demand for learning Vietnamese of foreigners has risen in recent years so there is a need of teachers and tutors to teach Vietnamese as well. Recognizing this demand of foreigners, Jellyfish Education Vietnam has launched and developed Vietnamese training programs for foreigners.
Our company has many Vietnamese courses for all learners. These courses are also divided into many levels which depend on learners' schedules and language proficiency.
The basic level is the course for beginners, who has never known about Vietnamese. Next, we have upper elementary and intermediate level courses for learners who know a little about Vietnamese.
Especially, our center also has advanced Vietnamese courses to help learners who are quite proficient in Vietnamese to know how to write in the style of Vietnamese people.
All levels are taught by qualified teachers, who are teaching Vietnamese and Literature subjects at schools or universities, colleges in Vietnam, and be fluent in foreign languages.
Especially, we only recruit teachers who have a standard voice and not a local accent. As a result, foreigners will learn Vietnamese correctly.
3. Why should you choose to study Vietnamese at Jellyfish Education?
1. Jellyfish Education contains all elements of a high-quality language teaching center. We have many Vietnamese classes for you to select.
2. Before introducing tutors to customers, we will have a trial lesson to know the language level of learners which also is a chance for learners to experience whether the class is suitable or not before deciding to register the course
3. Our teachers are qualified, fluent in foreign languages ​​, and able to teach Vietnamese competently.
4. The content of the program is designed following the standards of the Ministry of Education and Training. The lesson plan is scientific, selective, and helps students easily absorb and remember the knowledge. In the beginning, we will have warm-up activities, play some simple games to reduce the fatigue of learners, and make them feel interested in the lesson. After that, the teacher will teach theory and finally is speaking and communication practice.
5. The tuition at Jellyfish Education is also very reasonable. Tuition is paid monthly or by each course.
---
For more information and free consultancy, please fill the form below! We will reach out to you!
Jellyfish Education Vietnam – Hotline: 0961.275.006