Lunar New Year – known as the most important festival of the year for most of Asian countries, is an occasion for family members to get together and celebrate a new year. So do you know what will the Lunar New Year in Vietnam be like, what will happen on this occasion? Let's discover together with Jellyfish with today's article!
1. Vocabulary about Lunar New Year in Vietnam
So, everyone, another new year is on the way! Let's collect more useful new words with Jellyfish in the bustling atmosphere of these final days of the year so that you can use them during the Tet holiday in Vietnam!
| | |
| --- | --- |
| Vietnamese | English |
| Tất niên | Before New Year's Eve |
| Lịch âm lịch | Lunar calendar |
| Tết Nguyên đán | Lunar new year |
| Giao thừa | New Year's Eve |
| Hoa mai | Apricot blossom  |
| Hoa đào | Peach blossom |
| Cây quất | Kumquat tree |
| Bánh chưng | Chung cake/ Sticky square cake |
| Dưa hành | Pickled onion |
| Đoàn tụ gia đình | Family reunion |
| Mâm ngũ quả | Five-fruit trait |
| Người xông đất | First caller |
| Lì xì | Lucky money |
| Điều cấm kỵ | Taboo |
See more: Animals in Vietnamese
2. How do people wish Tet holiday in Vietnamese? – Happy new year in Vietnamese?
During Tet, Vietnamese people often send each other the best wishes for health, career, and wealth. This is also a beauty in Vietnamese culture that has been preserved from generation to generation.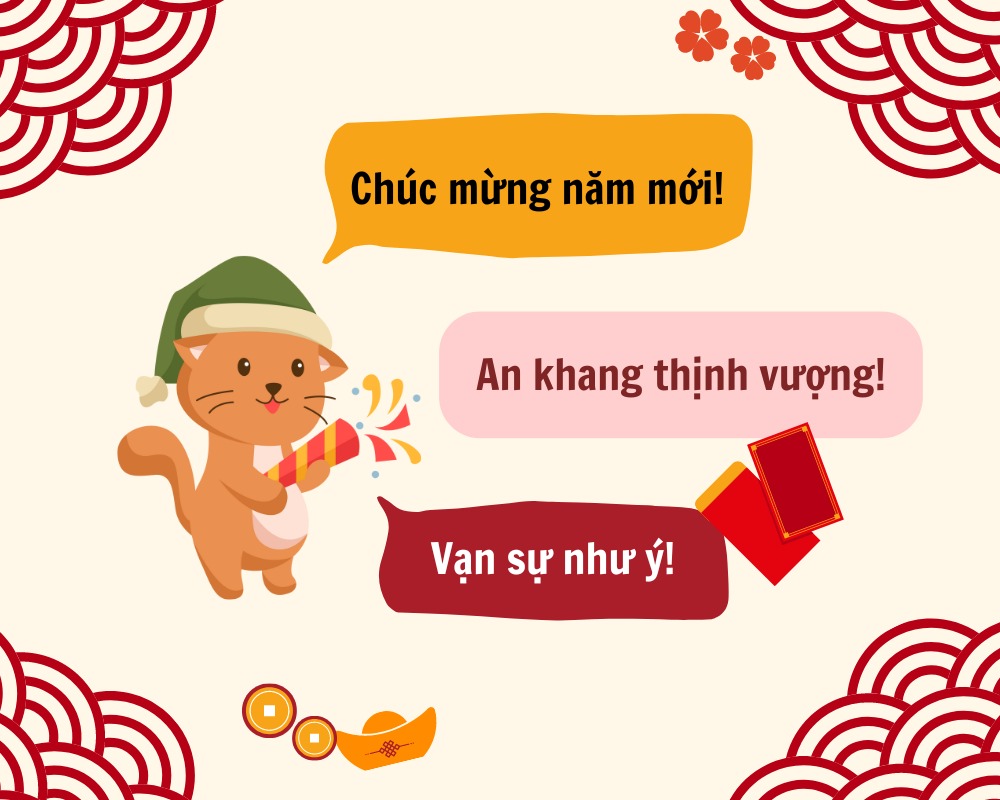 2.1. Popular wishes during lunar new year in Vietnam
During Tet holiday in Vietnam, family members, relatives or close friends will exchange wishes for health, wealth, happiness and luck. The most commonly used greeting is "Happy new year" in Vietnamese which is simply "Chúc mừng năm mới". In addition, Vietnamese people often use the following wishes, you can refer to:
Vạn sự như ý:  Everything in the new year will go smoothly, without any obstacles.

An khang thịnh vượng: Wishing you peace, health, promotion, and wealth

Công thành danh toại: Wishing your career always as favorable as what you want

Phát tài phát lộc: Wish someone would be rich and prosperous. in the new year

Tiền vô như nước:Money and possessions are always abundant and full. 

Dồi dào sức khỏe: Wishing someone always healthy, free from disease, and illness.

Sống lâu trăm tuổi: This sentence often wishes for the elderly, wish them a long, long life.

Hay ăn chóng lớn: Wish the children eat well and grow up quickly
2.2. How to congratulate the new year in Vietnamese
With the wishes in part 3, you can easily send these wishes to someone with the following structure:
Năm mới + chúc + personal pronoun/ role / proper name + wishes
Example:
Năm mới chúc anh/ chị vạn sự như ý, phát tài phát lộc (Wishing you all the best in the new year, prosperity and fortune).

Năm mới con chúc bố mẹ, ông bà sức khỏe dồi dào, tiền vô như nước New year, wish my parents and grandparents good health, money comes like water).
See more: Vietnamese useful phrases
3. Popular dishes during Tet holidays in Vietnam
In Vietnam, there are many dishes that just mention the name and people will immediately think of Tet. . Of course, it's not because the ingredients are hard to find or expensive, but just because those dishes when eaten during Tet will bring the most complete feeling. Here are the names of some popular dishes when Tet comes in the spring, you should try them: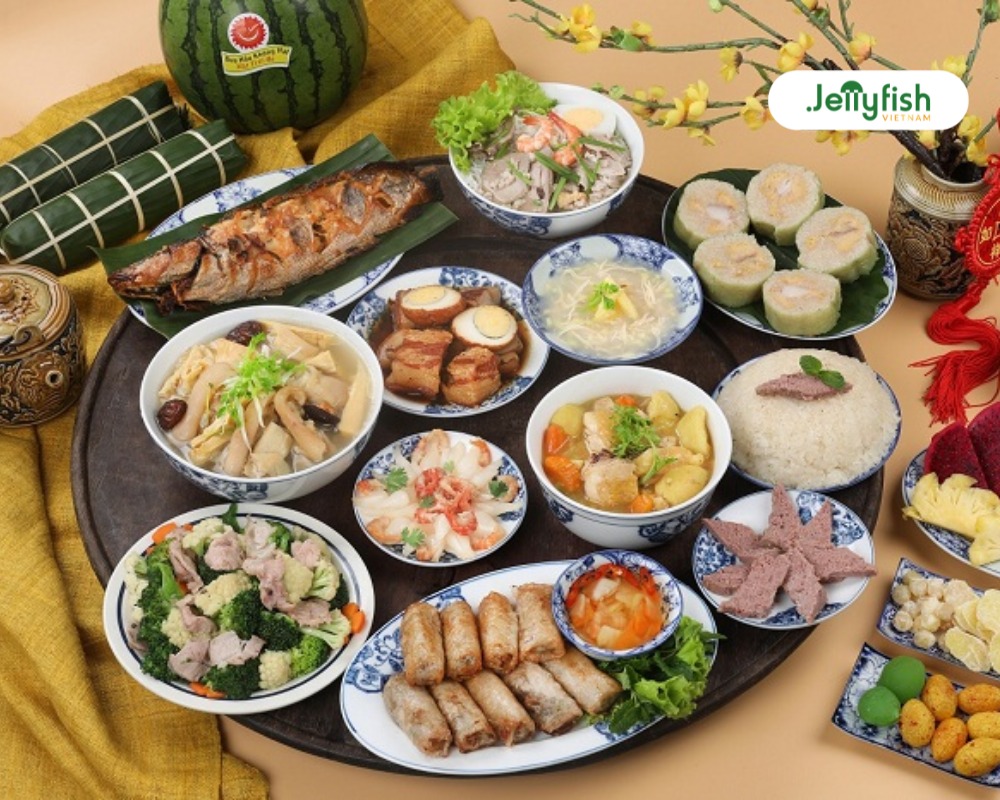 3.1. Bánh chưng (Chung cake)
Banh Chung is considered the most important dish for every Vietnamese family every Tet holiday. The three main ingredients to make Chung cake are glutinous rice, green beans and pork. Banh chung is wrapped with dong or banana leaves – easy to find in Vietnam as well as giving it a beautiful green color. A plus point for chung cake is that this type of cake can be easily preserved for a long time in Vietnam's winter weather.
3.2.Thịt kho hột vịt (Braised Pork Belly with Duck Egg)
This dish is more popular in the South than the North, but of course it is still considered a symbolic dish of the Vietnamese Lunar New Year. With 2 main ingredients, pork and eggs, cooked with coconut milk and fish sauce until the meat is soft and evenly absorbed, all have created a delicious, irresistible flavor that makes everyone want to eat.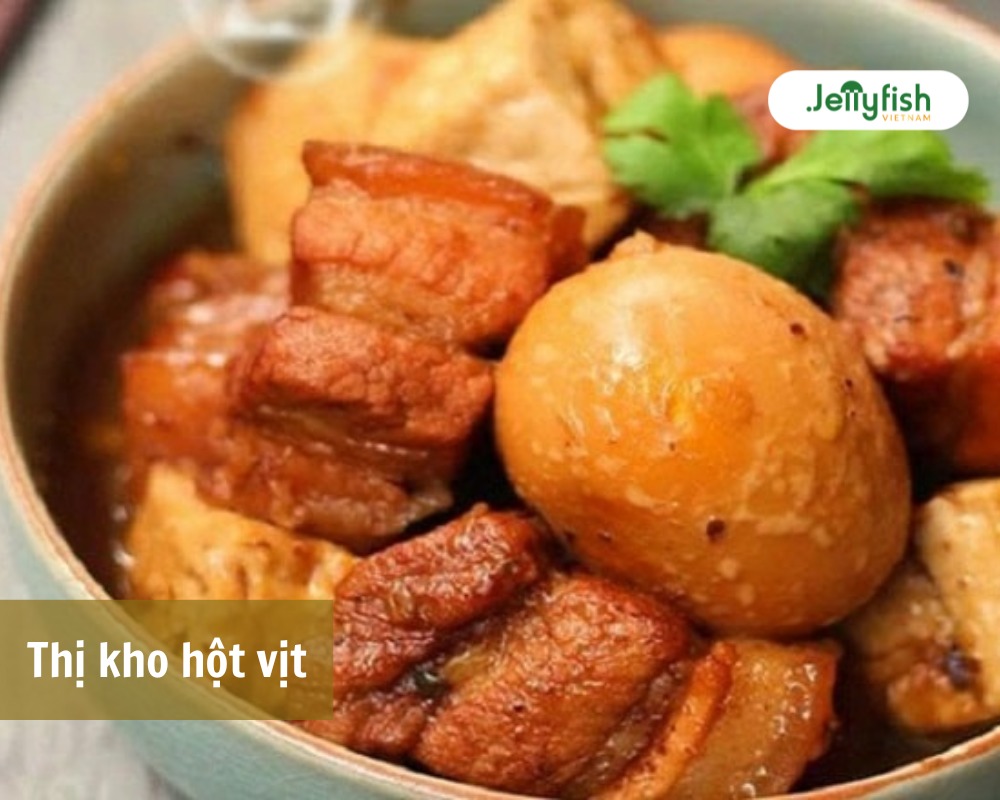 3.3. Mứt (Jams)
Jam is not a salty dish that should be eaten with every meal, but it is a nice treat to give to guests on special occasions like this. Because jam contains a wide range of ingredients, there are numerous flavors available during Tet. Ginger jam, carrot jam, coconut jam, pumpkin jam, lotus seed jam, etc are among the most popular.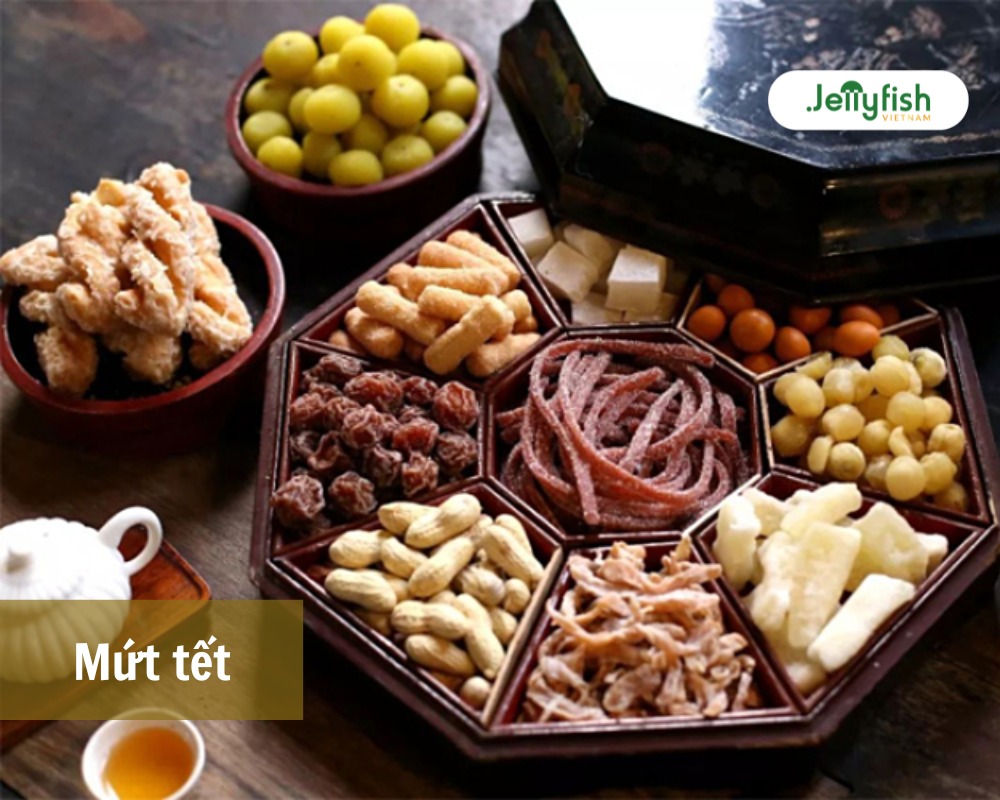 3.4. Xôi (Sticky rice)
Along with Chung cake, sticky rice is an essential part of the Tet holiday in Vietnam. During the Vietnamese Tet holiday, people enjoy a variety of sticky rice dishes, including sticky rice with sweet gourd (gac fruit), sticky rice with peanuts, and sticky rice with green beans. Many people prefer gac sticky rice because of its red color, which represents luck and success in Vietnamese culture.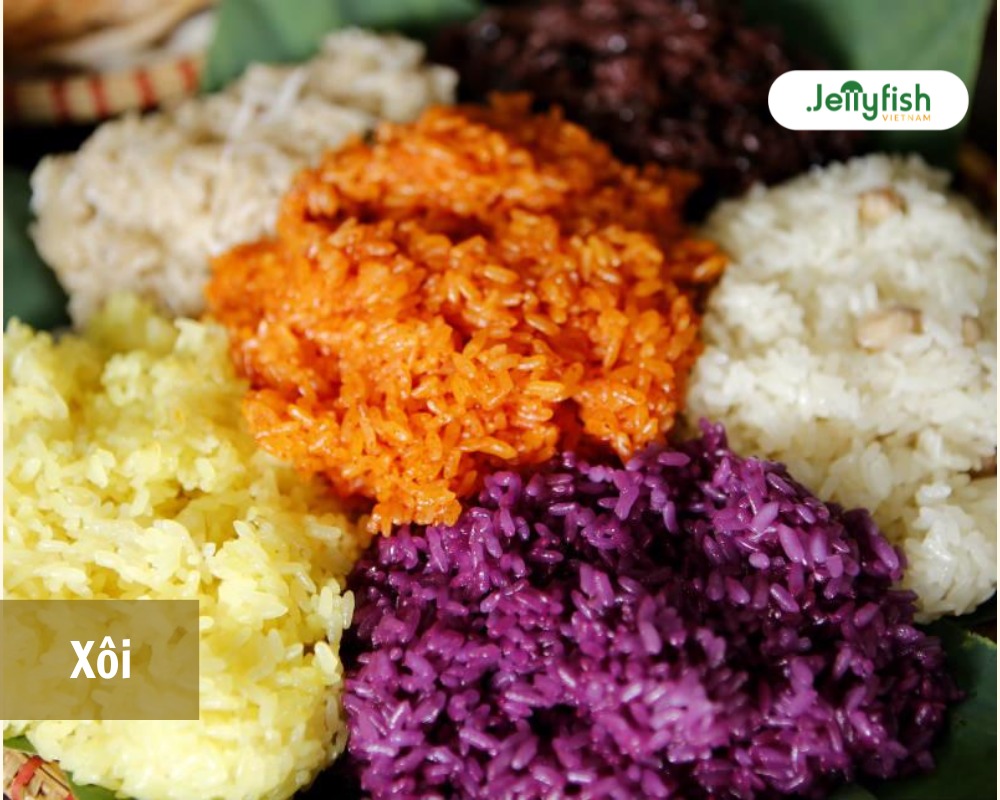 3.5. Nem rán (Fried spring rolls)
Because it requires so many ingredients, this dish is considered the most popular but sophisticated dish. Traditional fried spring rolls will include vermicelli, wood ear, carrots, pork, and green bean sprouts and the ingredients change depending on the preferences of each family. Fried spring rolls are wrapped in rice paper and fried, making this dish more appealing than ever.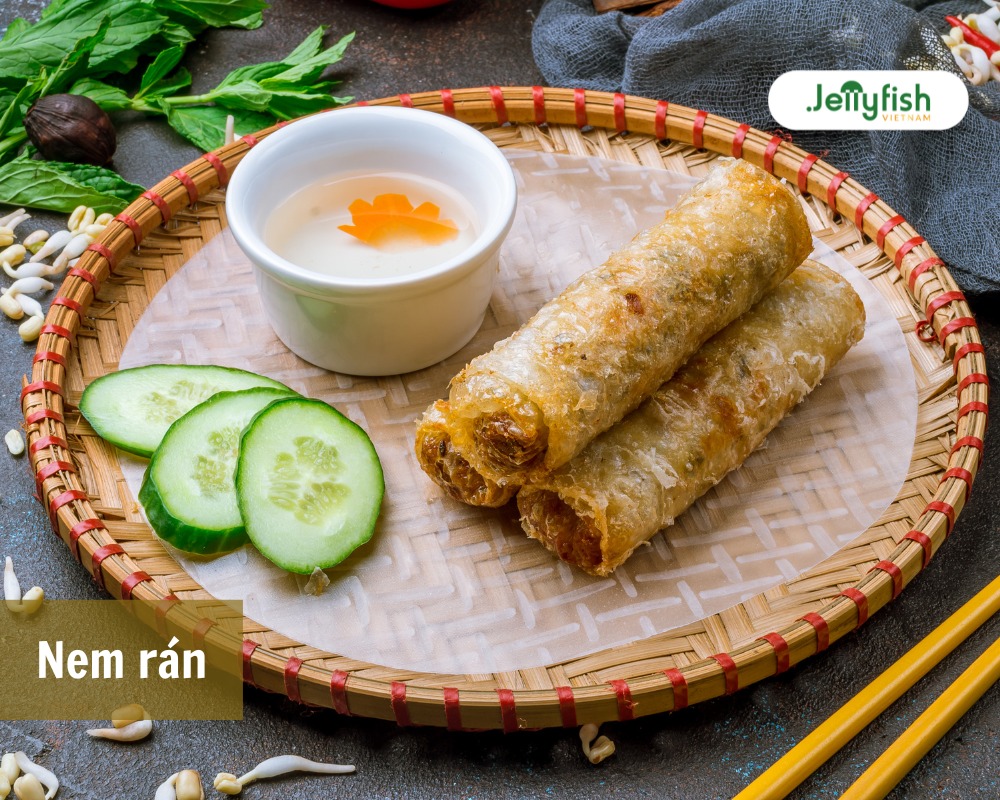 3.7. Gà luộc (Boiled chicken)
In Vietnamese culture, chicken symbolizes good fortune and a prosperous start to the new year. Boiled chicken is typically fresh chicken that has been cleaned and then placed in a boiling pot with spices such as navigator, star anise, and ginger. To add flavor to the dish, boiled chicken is served with salt, pepper, and lemon.
See more: Vietnamese food vocabulary
4. Traditional customs during Tet holiday in Vietnam
Vietnamese people from the past to now have the concept that "Pray for holiness. Be patient for good", so no matter how many generations have passed, Vietnamese people still keep these traditions. Traditional customs are like a form of wishing for a happy and lucky new year. Here are some long-standing customs during Tet holiday in Vietnam that still retain its inherent value:
4.1. Giving lucky money (Tặng lì xì)
This custom is called "mừng tuổi". Perhaps this is the most favorite custom of children every Lunar New Year. Children will receive red envelopes containing money from adults in the house. These red packets represent the luck that the giver wants to send to the recipient. Before receiving lucky money, children will send many wishes to adults as a thank you.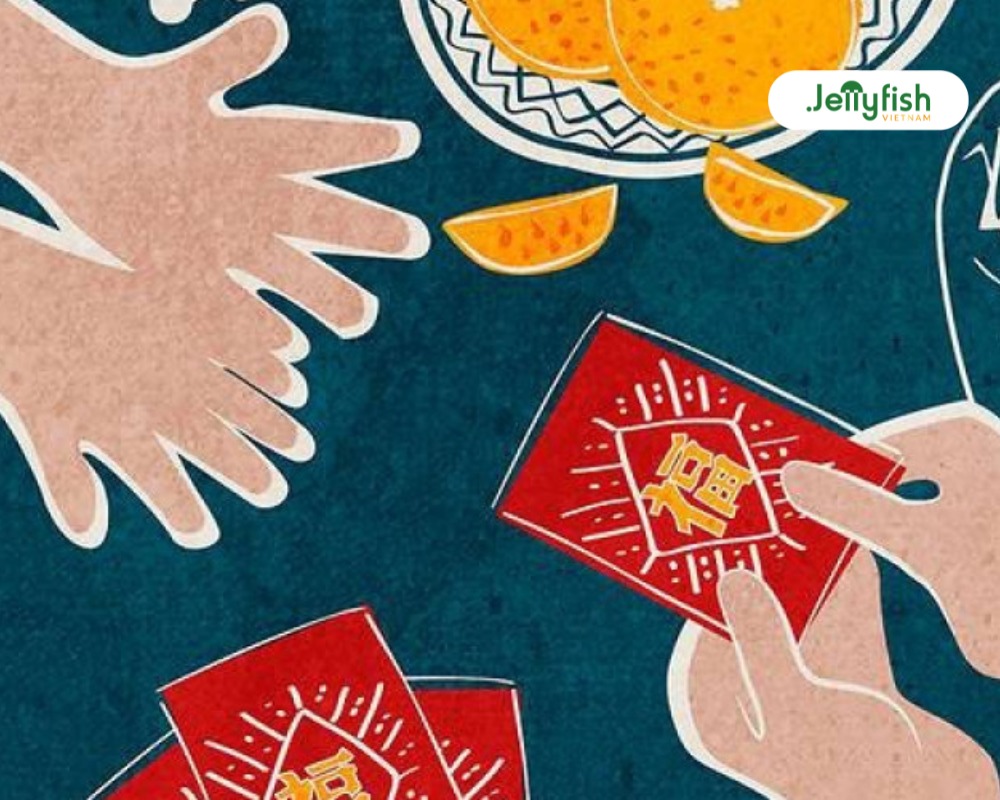 4.2. Become the first guest (Xông đất)
The Vietnamese believe that the first guest a family receives in a year will determine the luck of the whole year, so the first person to visit the family during Tet will be asked by the host to bring luck to the whole family for a whole year. This action is called "xông đất" hoặc "xông nhà", and it is an important ritual for any family during the Lunar New Year.
Usually, a person with a kind, virtuous, and successful personality will be a good omen for the owner and be invited firstly into the house.
4.3. Cleaning the house
Vietnamese families have a custom of cleaning the house in the days leading up to Tet. This action is analogous to cleaning up all of the bad things and bad luck from the previous year and decorating the house to welcome new and better luck in the coming year.
4.4. Before New Year's Eve meal (Cúng Tất niên)
The year-end meal is usually served in the afternoon of December 30th, after all work has been completed. Every Vietnamese family will prepare a meal to honor their ancestors at this time, and the entire family will gather around the tray to eat. The year-end meal also includes traditional Tet dishes such as banh chung, boiled chicken, fried spring rolls, etc.
4.5. Decorating the house during lunar new year in Vietnam
Each house will be decorated with apricot flowers or peach blossoms during Tet holiday in Vietnam. Aside from these two flowers, the kumquat tree is a popular tree used to decorate homes on lunar new year. The bright yellow, pink, and orange trees represent the abundance that the family wishes for in the coming year.
The year 2022 is coming to an end, and the year 2023 is rapidly approaching. Have you learned a lot of interesting and useful Vietnamese knowledge in the last year? If this year or in the future you have the opportunity to celebrate the Lunar New Year in Vietnam, then don't forget our today's article to have a complete Tet holiday, a "Vietnamese" Tet holiday!
If you are looking for a comprehensive Vietnamese course that will help you communicate with native speakers naturally and better understand Vietnamese culture. Please refer to the special courses at Jellyfish:
For more information and free consultancy, please fill the form below! We will reach out to you!
Jellyfish Vietnam – Hotline: 0961.275.006